HOUSEJOY - ONLINE HOME SERVICES APP PLATFORM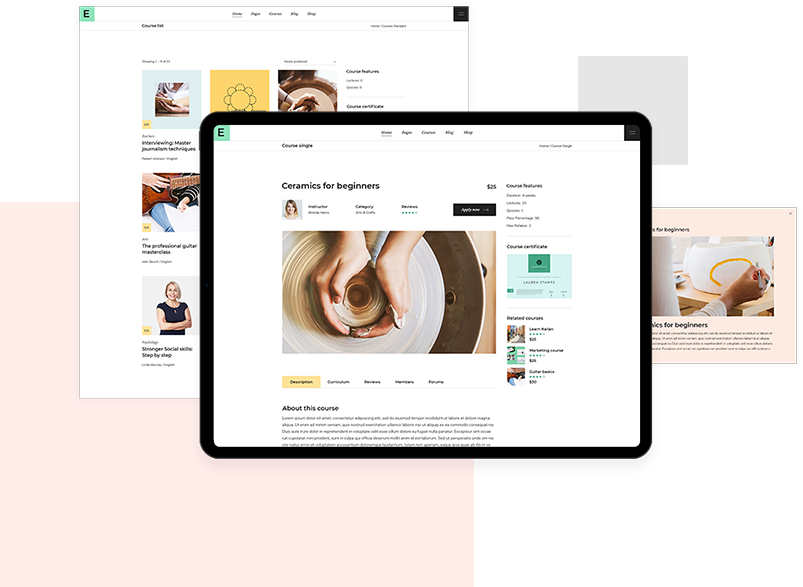 Getting your home chores done became simpler!
Housejoy is a smart software developed by Lotzap team. It provides the users the ease to book experts for various home services, at the comfort of their homes. This on-demand app is specially made by our developers for home services where they can easily get access to the services they need & quickly book an appointment. The software is custom designed with a vibrant theme. Housejoy is the perfect marketplace service providing app solution by Lotzap for both service seekers & service providers. The on-boarding features are made simpler & easier, anyone can use the app and book their service slot hassle-free.
Easy Learning For Students

rocksteadyboxing
Drag & Drop tiles to set goals Teacher Assessment using complex Algorithm Curriculum Library & Management Drag & Drop tiles to set goals Curriculum Library & Management

hockeyplayersclub
Drag & Drop tiles to set goals Teacher Assessment using complex Algorithm Curriculum Library & Management Drag & Drop tiles to set goals Curriculum Library & Management

endorphinz
Drag & Drop tiles to set goals Teacher Assessment using complex Algorithm Curriculum Library & Management Drag & Drop tiles to set goals Curriculum Library & Management

zengot
Drag & Drop tiles to set goals Teacher Assessment using complex Algorithm Curriculum Library & Management Drag & Drop tiles to set goals Curriculum Library & Management

WLS – AI for table tennis
Drag & Drop tiles to set goals Teacher Assessment using complex Algorithm Curriculum Library & Management Drag & Drop tiles to set goals Curriculum Library & Management

live-sports
Drag & Drop tiles to set goals Teacher Assessment using complex Algorithm Curriculum Library & Management Drag & Drop tiles to set goals Curriculum Library & Management
zoog-ai
Drag & Drop tiles to set goals Teacher Assessment using complex Algorithm Curriculum Library & Management Drag & Drop tiles to set goals Curriculum Library & Management

ezpro
Drag & Drop tiles to set goals Teacher Assessment using complex Algorithm Curriculum Library & Management Drag & Drop tiles to set goals Curriculum Library & Management

cvrepairservice
Drag & Drop tiles to set goals Teacher Assessment using complex Algorithm Curriculum Library & Management Drag & Drop tiles to set goals Curriculum Library & Management

glogat
Drag & Drop tiles to set goals Teacher Assessment using complex Algorithm Curriculum Library & Management Drag & Drop tiles to set goals Curriculum Library & Management

myelearning
Drag & Drop tiles to set goals Teacher Assessment using complex Algorithm Curriculum Library & Management Drag & Drop tiles to set goals Curriculum Library & Management

quiqtax
Drag & Drop tiles to set goals Teacher Assessment using complex Algorithm Curriculum Library & Management Drag & Drop tiles to set goals Curriculum Library & Management

quiqpro
Drag & Drop tiles to set goals Teacher Assessment using complex Algorithm Curriculum Library & Management Drag & Drop tiles to set goals Curriculum Library & Management

trim
Drag & Drop tiles to set goals Teacher Assessment using complex Algorithm Curriculum Library & Management Drag & Drop tiles to set goals Curriculum Library & Management

We Pickup Pallets
Drag & Drop tiles to set goals Teacher Assessment using complex Algorithm Curriculum Library & Management Drag & Drop tiles to set goals Curriculum Library & Management

Demo1
Drag & Drop tiles to set goals Teacher Assessment using complex Algorithm Curriculum Library & Management Drag & Drop tiles to set goals Curriculum Library & Management
HOUSEJOY – ONLINE HOME SERVICES APP Platform
Hassle-free appointment booking
Multiple services options to choose from
Easy & Quick to book
Simple GUI
Simple Search option
Attractive design & colour coded theme
Custom job option
Multiple Online payment modes available
Review your order history
Feedback options for services acquired